Exploitation of microalgae diversity for the development of novel high added-value cosmeceuticals
Work Package 7: Dissemination, Transfer of Knowledge, Training and outreach activities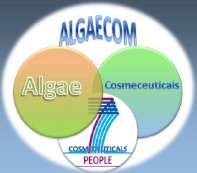 Partners:

AUA, CNRS, APIVITA, FITOPLANCTON MARINO.

WP leader: AUA.

Objectives:

· to ensure proper dissemination of results;
· training and knowledge transfer between the participating partners;
· networking, workshops, scientific exchanges etc; and
· organizing outreach events and activities to the general public.

Deliverables:

D 7.1. Publications in scientific journals/conferences.
D 7.2. Project Website.
D 7.3. Proceedings of the training workshops.
D 7.4. Detailed report on transfer of knowledge between academic and industrial partners.
D 7.5. Bi­annual e-newsletters (eight e-newsletters will be distributed).
D 7.6. Report on outreach activities to the general public.
D 7.7. Microalgae Analytical Handbook.