Exploitation of microalgae diversity for the development of novel high added-value cosmeceuticals
Work Package 5: Formulation and in vitro assessment of algae-based cosmeceuticals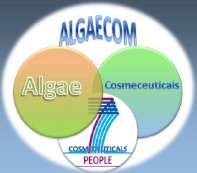 Partners:

APIVITA, AUA.

WP leader: APIVITA

Objectives:

· formulation and development of algae-based cosmetic products;
· development of encapsulation technology in order to boost use of microalgae's bioactive ingredients in cosmetics; and
· assessment of algae-based cosmetic products on skin model (reconstituted human epidermis).

Deliverables:

D5.1. New cosmeceutical products containing algae-based cosmeceutical products and other suitable commonly used ingredients.

D5.2. Report on the encapsulation technology of complex algae cosmeceuticals and enzymes.

D5.3. Report of the effect of cosmetic products on the transcription of skin-related genes using in vitro skin model.