Exploitation of microalgae diversity for the development of novel high added-value cosmeceuticals
Work Package 2: Characterization of microalgae polysaccharides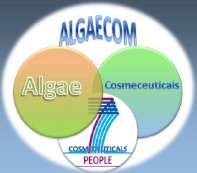 Partners:

CNRS, APIVITA, FITOPLANCTON MARINO.

WP leader: CNRS

Objectives:

· isolation and characterization of microalgae extracellular and cell wall polysaccharides; and
· investigation of the complexity and structural analysis of polysaccharides.

Deliverables:

D2.1. Glycomic profile of microalgae under different culture regimes.

D2.2. Purification and structural analysis of selected algae polysaccharides.